---
SOUTH HANNINGFIELD PARISH DISTRICT
Co-ordinators: Terry Lowing; Peter Huntington
Dear Members,
My name is Terry Lowing and I have been the NHW coordinator for South Hanningfield, Ramsden Heath and Downham since 2011. I am supported by Peter Huntington who joined us earlier this year and who is a coordinator for the same areas.
Firstly we would like to apologise for the lack of information and communications for many months. This has been due to the reduction in PCSO's by Essex Police, which has resulted in a lack of any information being communicated to NHW areas in the Chelmsford area.
We have raised this issue with Chelmsford Police and the Essex Police and Crime Commissioner, Roger Hirst, and over the past few weeks we have started to receive the occasional report on incidents in the Chelmsford area, of which we are part. The reports still need to be improved in terms of regularity and their breakdown by geographical area to improve their usefulness.
Despite the faults with the information we have decided to restart communicating with you again, although it may be somewhat hit and miss in the initial stages until we start to get regular and clearer reports from the Police.
In the meantime we would be happy to receive information from any of our existing NHW members and would welcome anyone who wishes to become a member.
Peter is responsible for communications and maintaining the membership distribution list. He can be contacted by email at mailto:ramsdennhw@outlook.com
 Any suspected incidents should be reported direct to: Essex Police, Tel 101
To find out what is happening in your neighbourhood and all about your local neighbourhood policing team visit http://www.essex.police.uk/my_neighbourhood.aspx and enter your postcode
If you know of neighbours or friends in the village who would like to be on the list or if you have any questions regarding the scheme please contact Terry Lowing or Peter Huntington by email at mailto:ramsdennhw@outlook.com
---
Security advice on various topical issues can be found below
FACE BOOK SECURITY – Can You Trust Your Facebook Friends?
<>~<>~<>~<>~<>~<>~<>~<>~<>~<>~<>~<>~<>~<>~<>~<>~<>~<>
You get a message from someone you think you know who wants to become one of your Facebook Friends.
Should be okay, right? Maybe not.
Right now, one of the most common ruses on this site is the so-called Facebook clone scam.
In this trick, crooks target Facebook accounts with weak or no privacy settings.
They set up similar sites that mimic the original, stealing all the info and pictures, and then contact all the victim's friends with a fake friendship request, trying to fool them into accepting them again.
It's amazing that some users don't first check their list of friends when they receive these requests and happily accept the clone as a genuine new friend, whom, they think, they already know.
The crooks then attempt various scams on your gullible friends, such as inviting them to click links to malicious websites, requesting money, and even trying to trick them into an identity theft scam.
If you're a Facebook user, there are a couple of key steps you can take to avoid this scam.
First, always check requests against your current list of Friends.
Second, hide your list of Friends so no one else can see them or contact them, posing as you. In fact, this is good practice for every Facebook user.
It's a privacy setting not many people seem to know about, but it's easy to do. Here's how:
1. Open your Facebook profile (usually by clicking your profile picture and name in the blue bar at the top of the page).
2.When your profile page opens, click on the "Friends" tab.
3. In the top, right-hand corner, you'll see an editing icon — looks like a small pencil. Click this.
4. Now you get an option to "Edit Privacy." Click this.
5. Now you'll see a couple of options, the first of which is "Who can see your Friends list?"
6. Click the options on the right for a choice ranging from "Public" to "Only me."
7. There are other options here too but choosing "Only me" ensures no one else, not even your Friends, can see this list.
That way, no one can try to scam your Friends in your name — unless they managed to hijack your account.
---
BOGUS CALLERS
We have been informed that some dubious cold calling Tree surgeons/Landscape Gardeners have entered our area having been suspected of committing offences in a neighbouring area. We would advise you to think twice about engaging cold calling traders. If you need a trader for a particular job and do not have a trader by personal recommendation contact Trading Standards "Buy with Confidence Scheme" on 0345 404 0506.
https://www.essex.police.uk/advice/rogue-traders/
Bogus Police Officers: A group of males have recently been involved in committing distraction burglaries in the Basildon, Brentwood and Thurrock areas, by posing as Police Officers. They have fake but very convincing Essex Police Identity Cards and use these to trick and scam their way into vulnerable people's homes with the intent to steal cash and valuables.They have to date mainly been concentrating on elderly females, but everyone is at risk.
If anyone calls at your property posing as a police officer please do not let them in without first checking their identity. Please telephone 101 to verify that the person at your door is a bona-fide officer. Best advice is not to open the door to anyone you do not know or are not expecting. A good tip is to open an upstairs window if possible and speak to the caller, asking their details, before opening the door until you are certain who they are. If you mention that you are going to call the police to verify their identity, a valid police officer will be happy to wait whereas it is likely that a bogus caller will disappear quickly. Please try and note a brief description of the person at the door and give this to the police if the caller proves not to be a bona-fide officer. Other types of bogus caller also pretend to be from utility companies or similar organisations. The above advice applies in all cases.
Some general advice is given below:
Representatives from water, gas and electric companies rarely visit without appointments. Genuine callers make appointments in advance and will always be happy to wait while you check their identity. Some utility companies now also operate a password scheme for extra security – please call your provider for details.
Police or bank officials would never visit you or call you by telephone and ask for your bank details or ask you to withdraw large sums of cash. Be wary of strangers who call unexpectedly. Bogus callers succeed because they're believable – they're well practised and will have a convincing story and set of excuses ready. Next time the doorbell rings remember – check before you open the door.
Who to call: If you suspect you, or someone you know has been visited by a bogus caller please call the Police as soon as possible – you may well prevent other crimes occurring. In an emergency dial 999, otherwise report incidents to Essex Police on 101. You can also report any crimes or incidents free and anonymously to Crimestoppers on 0800 555 111.
If you have been sold shoddy products or bought overpriced goods at the door you can report this to Consumer Direct on 03454 04 05 06.
---
RESIDENTIAL BURGALARIES
There has been a spate of burglaries targeting more rural areas – including: Purleigh, Stock, The Hanningfields, Bickacre, Howe Green, Ramsden Heath and rural Runwell (Brock Hill area) Entry has been gained usually via the rear of the property (smashing glassed doors/windows) and some of those targeted have had alarms. Some house have also had safes which have been attached.These are mainly being committed between 1000 and 1400.
We are increasing visible patrols in these areas and from an investigation point of view, my team has some leads which I cannot share with you now, but rest assured we are doing our best to catch those responsible.
Can I please ask you to do a few things:
Ensure any really valuable or sentimental items of jewellery are safe – whether that means you take them out with you or ensure they are hidden in a very unusual place in your house.
Please be our eyes and ears – the areas concerns are geographically very large. We cannot patrol all of these areas all of the time. If you see suspicious activity, please phone 999 and report exactly what you are seeing – try and get descriptions and vehicle registrations.
Please spread the word – get this message to your neighbours and on local Facebook groups – we want as many people to know about it as possible.
If you have CCTV and are able to review it quickly, it could really help us for you to do that to establish any suspicious activity that has already happened.
Many Thanks
Det Insp Rob Kirby
---
HMRC warns on iTunes gift card scam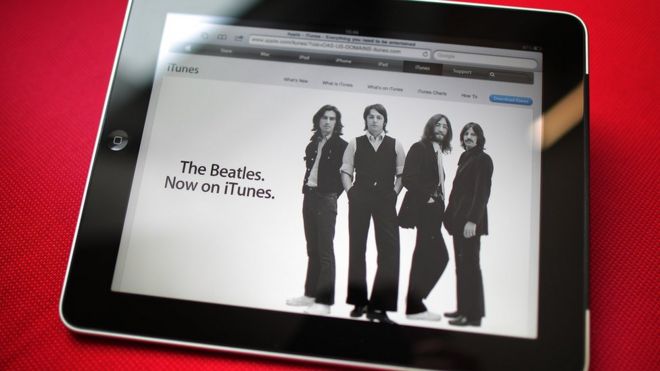 Hundreds of older and vulnerable people are getting ripped off by fraudsters who tell them to buy iTunes gift cards to pay their tax bills.
HM Revenue and Customs (HMRC) said there have been 1,500 reports of such scams since the start of last year.
Most victims are over 65 and lose £1,150 each on average.
HMRC has said it is working with Apple and campaign groups to make sure the public know how to spot the scam and to whom they should report it.
Here's how it works: victims are first cold-called by the fraudsters, who pose as staff from HMRC.
They tell them they owe large amounts of tax.
The householders are then told to go and buy digital vouchers or gift cards, redeemable on sites such as iTunes, and read out the code.
Many of the victims agree to follow the instructions, as they don't know what an iTunes voucher is.
The conmen sell the codes on, or purchase high-value products, at the victim's expense.
On its support page, Apple said some fraudsters were using the same trick to persuade people to pay off hospital bills, bail money, debt collection fees and utility bills.
Since October, there has been new wording on the back of iTunes vouchers warning buyers not to share the code with anyone else.
It also warns specifically about tax bills: "The card cannot be used for any payments outside of the UK App Store or iTunes Store, including taxes."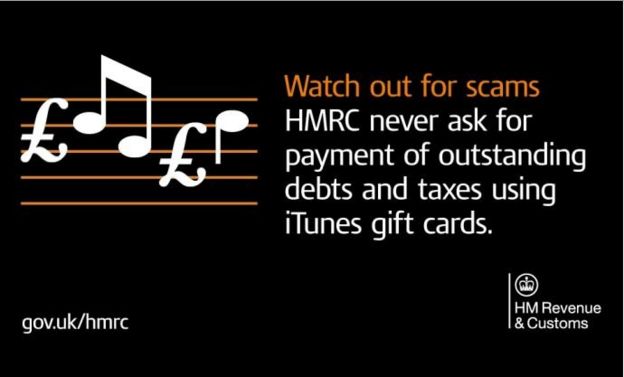 HMRC described the scammers as "very confident, convincing and utterly ruthless".
"We urge people with elderly relatives to warn them about this scam and remind them that they should never trust anyone who phones them out of the blue and asks them to pay a tax bill," said Angela MacDonald, HMRC's director general of customer services.
"If you think you've been a victim, you should contact Action Fraud immediately."
HMRC would never ask for outstanding payments using iTunes gift cards, it added.